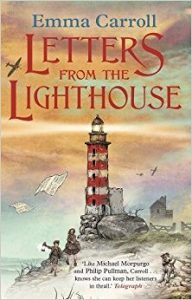 Letters from the Lighthouse ááááá
á by Emma Carroll
ááááááááááááááá
AuthorÆs website
www.emmacarrollauthor.wordpress.com
Useful websites
Imperial War Museum WWII classroom resources
National Museum of Computing – Colossus Gallery
á
Films / videos / You Tube
Amazing colour film of London during the Blitz
Activities
Crossword – could you have been a codebreaker at Bletchley Park?
TES Scheme of work for book (Cross curricular activities are particularly good)
What 3 items would you take with you in your suitcase? Information from TES Suitcase template
Here are the titles and first lines of some of WWII songs û see if you can find the rest of the lyrics for these songs, and the tunes (try Youtube). Write them down and then have a go at singing them.
Boogie woogie bugle boy
ItÆs a Long Way to Tipperary
(ThereÆll Be Bluebirds Over) The White Cliffs Of Dover
Run Rabbit, Run Rabbit Run, Run, Run
WeÆll meet again
(We're Gonna Hang Out)the washing on the Siegfried Line
á
Books Suggestions
Nina Bawden CarriesÆ War
Gillian Cross After Tomorrow
Judith Kerr When Hitler Stole Pink Rabbit
áMichelle Magorian Goodnight Mister Tom
Ian Serraillier The Silver Sword
Jacqueline Wilson Wave Me Goodbye
Robert Westall The Machine Gunners