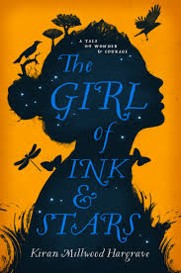 The áGirl of Ink and Starsáby Kiran Millwood Hargrave
This beautifully illustrated fantasy novel is set on the fictional island of Gomera. Forbidden to leave her island, Isabella, the cartographerÆs daughter dreams of the faraway lands her father once mapped.
When her best friend disappears, sheÆs determined to be part of the search party. Guided by an ancient map and her knowledge of the stars, Isabella navigates the islandÆs forgotten territories. But beneath the dry rivers and dead forests a fiery myth is stirring from its sleep.