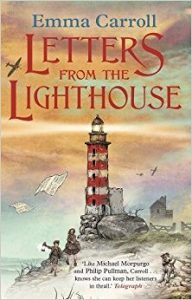 Letters from the Lighthouse by Emma Carroll
Emma Carroll is fast developing a reputation as a writer of novels in historical settings. This mystery is set during WWII.
After an air raid in which their sister disappears, Olive Bradshaw and her little brother Cliff are evacuated from London to a quiet seaside town on the Devon coast. ItÆs all very different to noisy metropolitan life in London but with secret messages, lights at sea and a possible spy, life is anything but quiet!