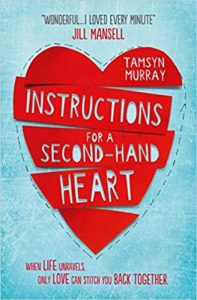 Instructions for a Second-hand Heart by Tamsyn Murray
This book has a very deceptive cover in that this is NOT a love story. It is a book told from the two perspectives.
Jonny is facing death, desperately in need of a heart transplant. Then one day he gets the call to say that a heart has been found û but of course, there are two sides to this story. Whilst JonnyÆs life may be saved, another family is facing a terrible loss.
Curiosity drives Jonny to find out more.
This is Tamsyn MurrayÆs second time being nominated for the Bolton Book Awards, the last time was in 2011 for her book æMy So Called Haunting.Æ