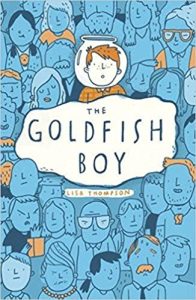 Goldfish Boy by Lisa Thompson
Matthew watches people. Imprisoned in his bedroom by a debilitating condition, he observes the coming and goings of the residents of the quiet road where he lives. So when a young child goes missing, Matthew has vital clues û but no-one will believe him.
A great mystery story with lots of twists and surprises right to the end, it is perfect for fans of The London Eye Mystery and Smart.
Please leave your reviews below: